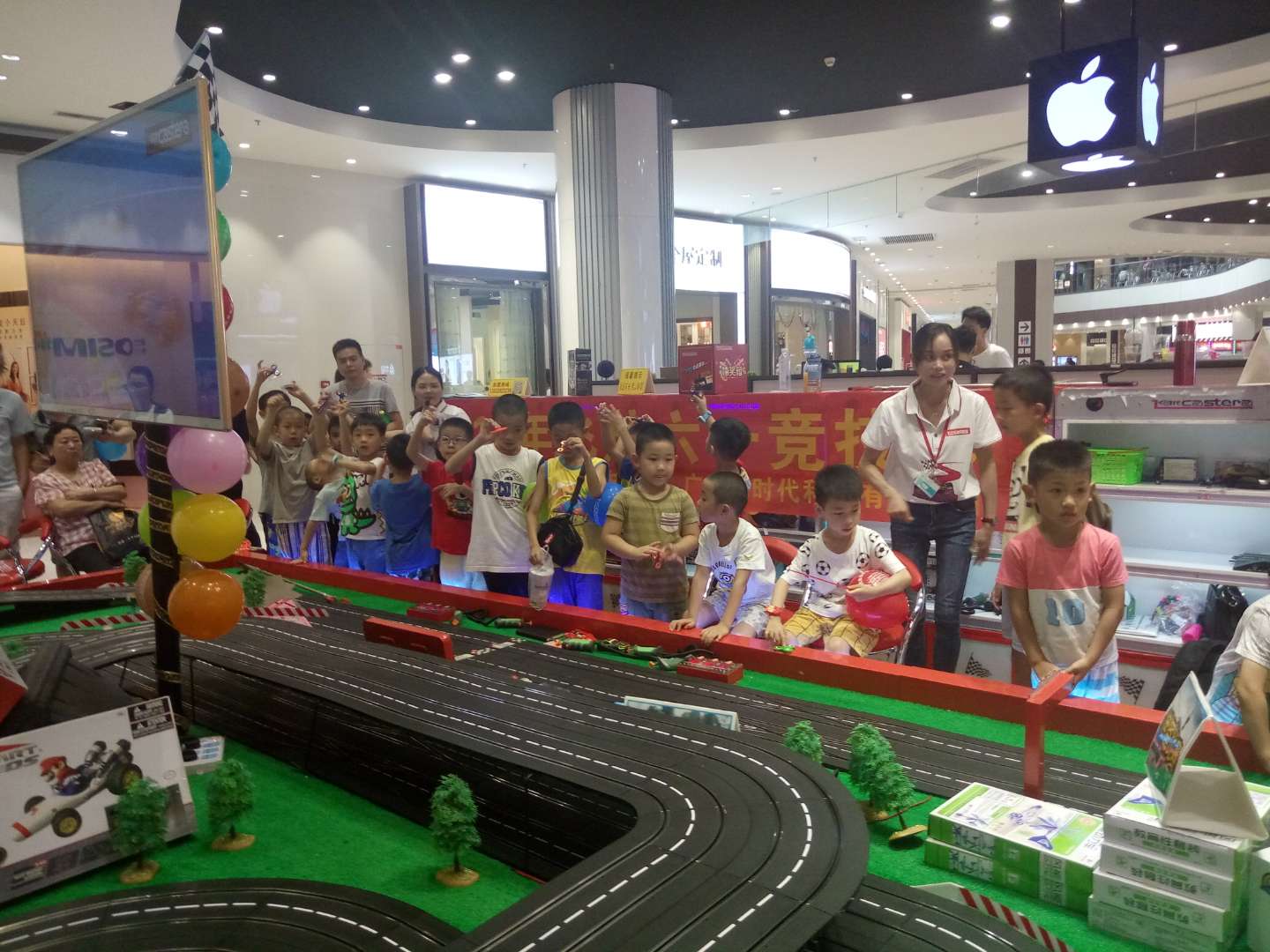 飞时代轨道赛车游乐设备集娱乐、竞技、益智、互动为一体,主要由轨道、控制盒、控制手柄、赛车四大部分组成,以操控真实的游戏模型赛车为乐趣点.
Fly time track racing amusement equipment contains entertainment, competitive sports, educational and interactive as a whole, it consists mainly of four parts as the tracks、control box、control handles and the racing cars,focusing the fun of controling the real game models.
不仅是时尚的家庭活动,而且还是社会团体、朋友交际、学生课余休闲的健康场所,它能培养人们积极上进、勇于挑战的信心和勇气,还能让不同地方、不同年龄、不同国家、素不相识的人们在飞时代轨道赛场上成为朋友。
It is not only a fashion family activity, but also a health leisure place for social groups、friends communications and students hanging out after school, which helps to delevop confidence and courge when facing challenges, and allow those strangers who play together becomes friends, no matter different place、ages, enen countries.
飞时代轨道赛车赛道可以随意组拼,设有四车道,拓展至6个遥控手柄,可跑6辆车,带有安卓系统,增加了比赛赛车轰鸣声,可设定多种比赛模式和训练模式,如:计时比赛、F1计圈模式、SOL计圈模式、训练模式。
The tracks can be arbitrarily set, which is equipped with four lanes, expanding into six remote control handle, run 6 car, with Android system and increase the race car roar, can set various game modes and training mode, such as: timing game, F1 meter circle pattern, SOL meter circle pattern, training pattern.
游戏分有六大功能模式:1、手动模式;2、自由模式;3、换挡模式;4、加油模式;5、变道超车功能;6、惯性刹车模式。简单的操作可使赛车实现追逐、刹车、变道、超车等各种动作,通过电子计圈器还能同步显示成绩和记忆比赛数据等。
The game has six funtional modes: 1、manual mode; 2、free mode; 3, shift pattern; 4, refueling mode; 5, overtaking function; 6,inertia brake mode. It can chases、brake、 change lanes and pass all sorts of actions, such as through the electronic meter circle device can synchronize display performance and memory game data, etc by simple operation.
============
Technical specifications:
1)Equipment,mainly 1-WIRE communication mechanism between cars and cotrollors
2)Output voltage:Toy transformer 16V ---64VA
3)controller Voltage:12V----60VA
4)car motor maximum output power of 1.6W
5)Oprating mode:Pay by card,then cars can be operated by speed controllers
6)Idle mode: no money or no controlthe speed controller
7)off-state: power off